Environmental Interests and Concerns
Have a look at what's happening to our precious land and water and if your like me you too will be disgusted by the ignorance of others.
No access = pristine wilderness

Cape Shore, NL, October 2005

Easy access = more pollution

Western Bay, NL, November 2005
The Choice is ours - pollute or preserve
See for yourself in the Gallery of Shame
See the improvements in the Gallery of Pride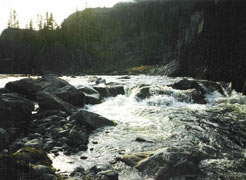 I encourage all young people to conserve and protect all of our wild spaces for if we do not the future of the next generation will be compromised. I hope that in the future we will all look at nature as an extension of ourselves.
View letters with Acrobat Reader